Helsinki Cup 8th to 13th July 2024
REGISTRATION
Registartion is open from September 13th 2023 to April 30th 2024.
WHERE TO REGISTARION?
Link to registration
TEAM FEE 2024
Early Bird price is valid December 31th 2023.
G7-G9 – 415€ (Early Bird 255€)
G10-G13 – 460€ (Early Bird 270€)
G14-G18 – 500€ (Early Bird 300€)
B7-B9 – 415€ (Early Bird 375€)
B10-B13 8v8 & B10H-B15H 8v8 – 485€ (Early Bird 440€)
B14-B17, B14H-15H 11v11 – 525€ (Early Bird 470€)
5 vs 5 – includes 10 pcs tags
8 vs 8- includes 15 pcs tags
11 vs 11 – includes 25 pcs tags
Hox! By booking the tournament package by December 31th 2023, you will get the team entry fee fully free of charge!
OPENING CEREMONY AND DISCO
Opening ceremony is second tournament day on Tuesday. In Helsinki Cup we have our tournament parade in the opening ceremony around ~1km distance. At the end of the parade there is a couple of artists, some speeches and oaths read by international and different teams and nations. It always have been a such a great memory to players and to the team staffs.
Festival is on Wednesday at Love The Ball Center in Käpylä. Doors open at 18:30.
IMPORTANT DATES
15th September – The registration opens
31th December – Early Bird benefits ends
30th April 2024 The registration closes
15th May 2024 Last day for payments (accommodation, extra meals)
14th June 2024 Publish the schedule (target)
4th July 2024 Check in to the tournament office
7th July 2024 Arriving day
8th July 2024 Tournament begin!
9th July 2024 Tournament parade / Opening Ceremony
10th July 2024 Helsinki Cup disco
13th July 2024 A finals
SCHEDULE & INSTRUCTION FOR BOYS

| Age Group | Date of Birth | Tactic | Game Time | Ball | Throw In | Retreat OffSide | Game Days |
| --- | --- | --- | --- | --- | --- | --- | --- |
| B7 | Jan 1st 2017 or after | 5 vs 5 | 2 x 14 min | 3 | Kick/Dribble | Retreat Yes | Wed-Fri |
| B8 | Jan 1st 2016 or after | 5 vs 5 | 2 x 14 min | 3 | Kick/Dribble | Retreat Yes | Wed-Fri |
| B9 | Jan 1st 2015 or after | 5 vs 5 | 2 x 14 min | 3 | Kick/Dribble | Retreat Yes | Mon-Wed |
| B10 | Jan 1st 2014 or after | 8 vs 8 | 2 x 15 min | 4 | Throw-in | Area* | Mon-Sat |
| B10H | Jan 1st 2014 or after | 8 vs 8 | 2 x 15 min | 4 | Throw-in | Area* | Mon-Thu |
| B11 | Jan 1st 2013 or after | 8 vs 8 | 2 x 15 min | 4 | Throw-in | Area* | Mon-Sat |
| B11H | Jan 1st 2013 or after | 8 vs 8 | 2 x 15 min | 4 | Throw-in | Area* | Mon-Thu |
| B12 | Jan 1st 2012 or after | 8 vs 8 | 2 x 20 min | 4 | Throw-in | Yes | Mon-Sat |
| B12H | Jan 1st 2012 or after | 8 vs 8 | 2 x 20 min | 4 | Throw-in | Yes | Mon-Thu |
| B13 | Jan 1st 2011 or after | 8 vs 8 | 2 x 20 min | 4 | Throw-in | Yes | Mon-Sat |
| B13H | Jan 1st 2011 or after | 8 vs 8 | 2 x 20 min | 4 | Throw-in | Yes | Mon-Thu |
| B13 11 vs 11 | Jan 1st 2011 or after | 11 vs 11 | 2 x 20 min | 4 | Throw-in | Yes | Mon-Sat |
| B14 | Jan 1st 2010 or after | 11 vs 11 | 2 x 20 min | 5 | Throw-in | Yes | Mon-Sat |
| B14-15H 8 vs 8 | Jan 1st 2009 or after | 8 vs 8 | 2 x 25 min | 5 | Throw-in | Yes | Mon-Thu |
| B14-15H 11 vs 11 | Jan 1st 2009 or after | 11 vs 11 | 2 x 25 min | 5 | Throw-in | Yes | Mon-Thu |
| B15 | Jan 1st 2009 or after | 11 vs 11 | 2 x 25 min | 5 | Throw-in | Yes | Mon-Sat |
| B17 | Jan 1st 2007 or after | 11 vs 11 | 2 x 25 min | 5 | Throw-in | Yes | Mon-Sat |
SCHEDULE & INSTRUCTION FOR GIRLS

| Age Group | Date of Birth | Tactic | Game Time | Ball | Throw In | Retreat OffSide | Game Days |
| --- | --- | --- | --- | --- | --- | --- | --- |
| G7 | Jan 1st 2017 or after | 5 vs 5 | 2 x 14 min | 3 | Kick/Dribble | Retreat Yes | Wed-Fri |
| G8 | Jan 1st 2016 or after | 5 vs 5 | 2 x 14 min | 3 | Kick/Dribble | Retreat No | Wed-Fri |
| G9 | Jan 1st 2015 or after | 5 vs 5 | 2 x 14 min | 3 | Throw-in | Retreat No | Wed-Fri |
| G10 Elite, general, hobby | Jan 1st 2014 or after | 8 vs 8 | 2 x 15 min | 4 | Throw-in | Offside Area* | Tue-Fri (elite Wed-Sat) |
| G11 Elite, general, hobby | Jan 1st 2013 or after | 8 vs 8 | 2 x 15 min | 4 | Throw-in | Offside Area* | Tue-Fri (elite Wed-Sat) |
| G12 Elite, general, hobby | Jan 1st 2012 or after | 8 vs 8 | 2 x 20 min | 4 | Throw-in | Offside Yes | Tue-Fri (elite Wed-Sat) |
| G13, Elite, general, hobby | Jan 1st 2011 or after | 8 vs 8 | 2 x 20 min | 4 | Throw-in | Offside Yes | Tue-Fri (elite Wed-Sat) |
| G14 | Jan 1st 2010 or after | 11vs 11 | 2 x 20 min | 5 | Throw-in | Offside Yes | Tue-Sat |
| G14H | Jan 1st 2010 or after | 11 vs 11 | 2 x 20 min | 5 | Throw-in | Offside Yes | Tue-Fri |
| G15 | Jan 1st 2009 or after | 11vs 11 | 2 x 25 min | 5 | Throw-in | Offside Yes | Tue-Sat |
| G15H | Jan 1st 2009 or after | 11 vs 11 | 2 x 25 min | 5 | Throw-in | Offside Yes | Tue-Fri |
| G18 | Jan 1st 2006 or after | 11 vs 11 | 2 x 25 min | 5 | Throw-in | Offside Yes | Tue-Sat |
| G18H | Jan 1st 2006 or after | 11vs 11 | 2 x 25 min | 5 | Throw-in | Offside Yes | Tue-Fri |

* Offside area starting from penalty area line
Week schedule for boys is coming soon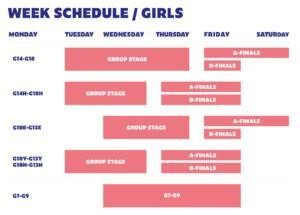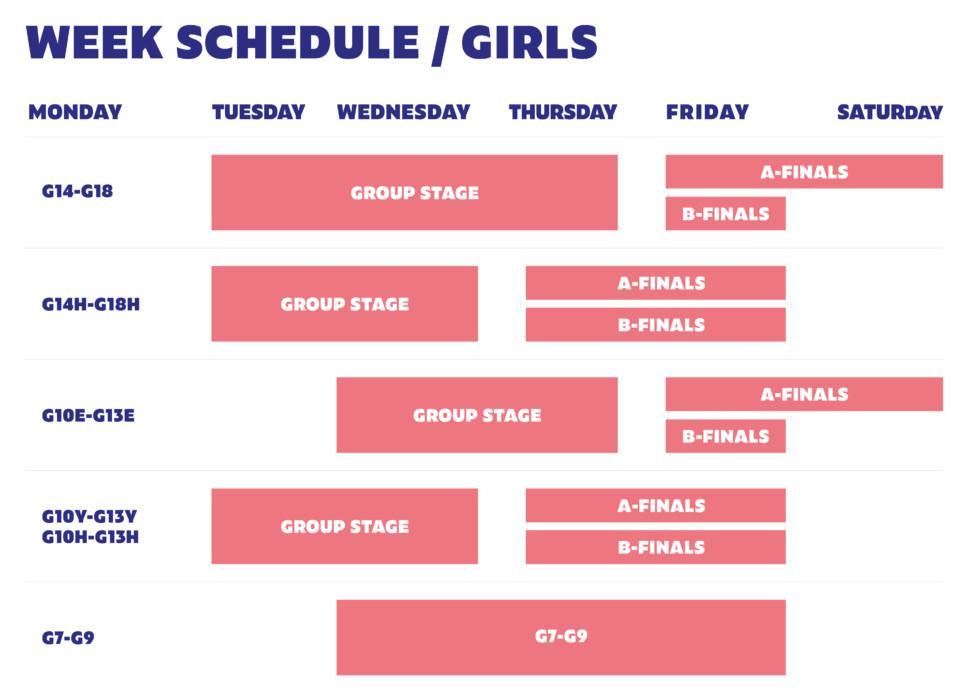 Partners